A Books of Caledan Prequel
Read the epic fantasy series readers are raving about.
Magic, dragons, elves; this noblebright coming of age saga has it all.
Discover how the Books of Caledan tale begins in The First Crown.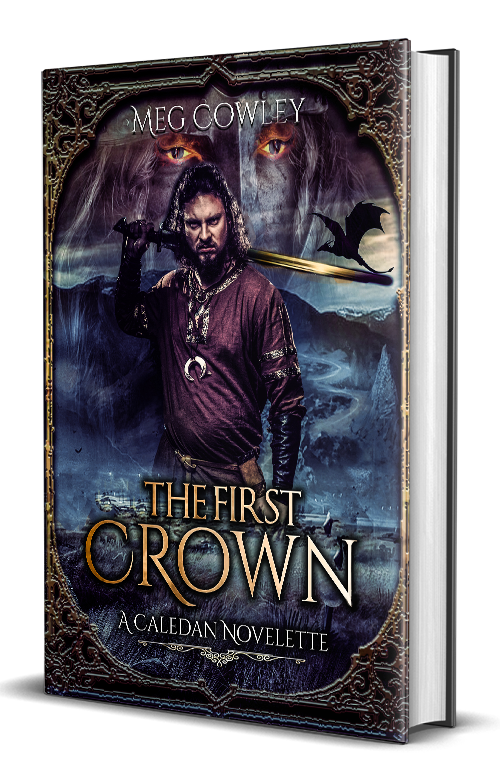 It is easy to kill a man.
It is hard to kill a dragon.
Is it impossible to kill a god?
Bahr, the god of Fire and War, is terrorising the land. Nothing can stand before him and Beren faces everything he loves being lost.
After witnessing Bahr's devastating power, Beren despairs, until the mysterious king of the Eldarkind offers him one glimmer of hope - but it comes at a cost. To have any chance, Beren must have faith, set aside his lifelong differences, and place his trust in the dragons who destroyed his home and family. Unless he does so, they are all doomed.
As Bahr's vengeful eye turns to their hostile alliance, their differences threaten to divide man, Eldarkind, and dragon.
Can Beren forge the strongest allies from his bitterest enemies before Bahr destroys them all?
Discover how the epic fantasy tale begins in this prequel, The First Crown: A Caledan Novelette. If you liked The Lord of the Rings, The Inheritance Cycle, or the Books of Pellinor, then you'll love the Books of Caledan series.
Readers are loving The First Crown
★★★★★ EPIC prequel to what promises to be a great series! Cowley spins a Tolkien-esque tale of an epic battle between humans, elderkind, dragons and a seemingly unconquerable god. Great description and a great introduction to the coming series. Can't wait to read more!
★★★★★ As an introduction to Meg Cowley's writing, it couldn't be better. The story is well-paced with plenty of action and excitement, but with enough narrative detail to not feel too rushed. I would definitely recommend reading this before The Tainted Crown.
★★★★★ A highly recommended series! Such an enticing story. Well described, great characters full of depth, not easy in such a short intro to the history of this world. Always so pleasing to find a more than competent author who exhibits quality, polished work. Needless to say, I have read the entire trilogy and it certainly doesn't disappoint!